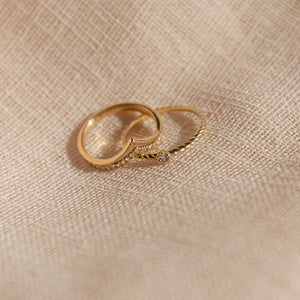 How to take care
of your jewelry
Jewelry Care Guide
Of course you'd like to keep your jewelry as shiny as when you first received it. Simply follow these steps and enjoy your latest sparkling treasure for a lifetime.
Your ring isn't invincible.
Take good care of your jewelry by sometimes giving it a time-off. We know what you're thinking, why would I do that? Well, as much as we want it to be, your ring isn't invincible. If you want to keep it forever, we recommend you to take your ring off while showering, sleeping, exercising, swimming and cleaning. All these actions might cause damage to your ring and we're sure there are more important moments that you'd like to show off your beauty!
Just like you, your ring also likes a bath.
Your ring loves to get a good bath from time to time so it'll get its sparkle back. Use warm water and add small drops of washing liquid. Then brush your ring gently with a soft toothbrush. After this, rinse it off and dry your ring with a soft cloth. Done, your jewelry is ready to shine again.
Prevention is better than cure.
After your jewelry enjoyed its cleaning ritual, it is time to examine the prongs of your ring. Make sure all prongs are still touching the diamond to prevent any loose stone from falling out.
There is no such thing as a chemical romance.
Perfume, hairspray, sunscreen lotion and other beauty products might contain chemicals. Be cautious when your jewelry gets in contact with these. They might smell nice, but they won't be that nice to your jewelry.
Your jewelry should last forever.
To make sure your jewelry will live a long and happy life, you have to take care of it on a daily basis. After each wear, you should wipe off any remaining make-up and skin-oils with a soft cloth.
Every good treasure is stored somewhere.
When not wearing your jewelry, it's important to keep it safe in a closed jewelry box. We recommend to keep each piece separate from the other to prevent friction. You can wrap your ring in a soft fabric to make sure it's stored safely.
Combine all as you please