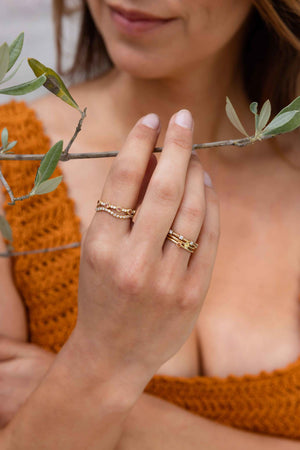 Consciously created
with love
for our planet, its resources and its people
Our story
How it all started
Juna Fae was born out of sister love and a dream to create a better future.

Juna means desire or wish and Fae comes from fairy, known to magically gift the fullfillment of a wish. That is exactly what Juna Fae is to us, a sustainable business dream come true.

We are 3 sisters who grew up in the Antwerp diamond district, where we experienced the opacity of a luxurious and attractive yet very dirty business.
Diamond jewelry is generally viewed as the ultimate love gift. Few people realize that its production leaves a major social and environmental impact, lacking any kind of love.
We believe it's about time to raise awareness about these issues and the beautiful alternatives available.
On a mission
Conscious jewelry
We are on a mission to put the love in fine jewelry. Make the traditional diamond industry more sustainable and ethical. By using only 18K recycled gold and carbon-neutral lab-grown diamonds, we guarantee an earth-friendly and conflict-free supply chain.
Juna Fae stands for consciously created jewelry, made with the greatest love for our planet, its resources and its people.

Together we put the love in fine jewelry.
Our collection
Stackable rings
Our collection is made of boho and vintage inspired ring designs you can actually feel good about. Delicate fine rings you can stack and combine to suit your taste. You can go bold with 3 combos on 1 hand or just keep it simple and match the perfect ring with your mood. Possibilities are endless for you to find the right stack for any occasion.

You can choose to:
1. Embellish your existing jewelry collection
2. Create a brand new combo
3. Start with 1 piece to extend later-on